A grid–tied home solar system is one that remains connected to the electrical grid. Such a system generates power for the home and it feeds any excess power it generates into the grid. … When the meter "spins backward" it means that electricity is being fed into the grid. Each SOLION PV solution is configured in a 'plug n play' solution and allows installers to safely and easily connect them. The Solion PV kit are designed to work anywhere in the world utilizing either 230V or 120/240V grid voltage. Homeowners are given the option to either automatically consume all the solar electricity generated from their PV system or sell excess solar energy back to the local utility grid provider. Solion kits are offered with all aluminum solar mounting systems to ensure long term performance and safety and can be installed on almost any type of roof or building.
DESCRIPTION
Our proposed kits are configurable in the above frame. You can customize your solar kit by choosing the type of panel, the capacity of your inverter and the length of your cables.
With the increase in electricity prices, self-consumption is growing.
Self-consumption solar kits now allow you to use your own production, and to consume it in real time thanks to your inverter. For this type of kit, it is recommended to use your devices that consume the most during the day, when the production of your solar panels is optimal. This is how you will make your solar kit profitable as quickly as possible.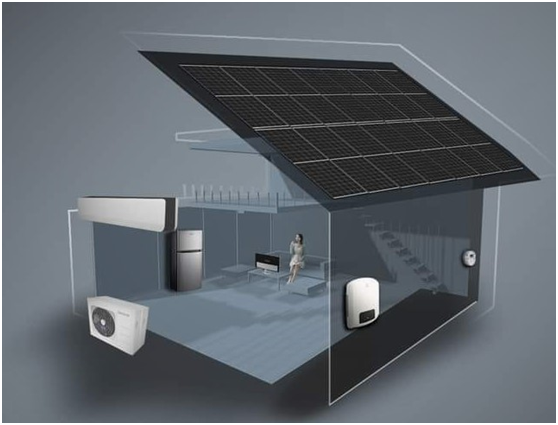 The basic kit is composed of:
You can contact our team of experts if you have any questions about the choice of your panels.
Kit configuration 3 & 5 KW grid connected Our Power Reservoir Hybrid solar kit are designed in 2 power sizes and can be configurated on demand to reach your requests. It includes:
KIT CONFIGURATION 3 & 5 KW GRID CONNECTED
| POWER OUTPUT | | 3.0 KW | 5.0 KW |
| --- | --- | --- | --- |
| Solar Panels LEAPTON SOLAR | DC Output | 360+ W × 8 pcs | 360+ W × 14 pcs |
| | Panel Type | LP 166 M-60 Mono | LP 166 M-60 Mono |
| Inverter FOXESS | Inverter Type | 3.0 kW, single phase Grid inverter | 5.0 kW, single phase Grid inverter |
| | Max Efficiency | 97.40% | 97.40% |
| | Output Frequency and Voltage (single phase) | 50/60 Hz, 220/230/240 VAC | 50/60 Hz, 220/230/240 VAC |
| | Max AC Output Power (W) | 3960 | 5500 |
| | Noise Emission | < 30 dB | < 30 dB |
| | Protection Category | IP65 Indoor and Outdoor | IP65 Indoor and Outdoor |
| | Installation | Wall-mounted | Wall-mounted |
| | Connectivity CAN; USB2.0; RS485 (Wifi optional) | Connectivity CAN; USB2.0; RS485 (Wifi optional) | Connectivity CAN; USB2.0; RS485 (Wifi optional) |
| Mounting system VG SOLAR | Tilt roof-mounted | 1 set with accessories | 1 set with accessories |
| PV cables | DC Cable | 100 m (4 mm2) | 100 m (4 mm2) |
| Monitoring system | Software | Energy management platform with APP interface(IOS/Android) | |