This article is based on an interview with Laid Sahraoui, founder and managing director of R3 Tech Limited and member of EnergyBin since June 2020. R3 Tech specializes in turnkey solutions, repair, and resale of used panels. Connect with Laid on EnergyBin for help with your residential, commercial or utility-scale project needs.
Laid Sahraoui started his career in the solar industry in 2008 working transnationally between Europe and China. He was directly exposed to the manufacturing scene and learned well the supply chain, components and equipment sourcing, pricing and quantity. Working for major companies like CP Solar, GCL and RINOVASOL had its perks.
"I was really fortunate to learn the manufacturing sector and meet key industry players. The solar industry is all about relationships."
But Laid has always considered himself to be an entrepreneur at heart. He dreamed of the day he'd incorporate his own business. He found his niche in failing solar panels and used modules with resale value. Discussing these issues with installers, developers and investors, he realized they were industry-wide problems.
Stakeholders were looking for solutions to address defective solar panels. They also needed help with removing decommissioned modules from solar farms, but were concerned that the material would end up in landfills even though the equipment had life still to give.
There had to be a viable way to repair defective panels as well as resale decommissioned used panels in good condition. He recognized this niche market was worth further exploring, and the idea for R3 Tech Limited was born.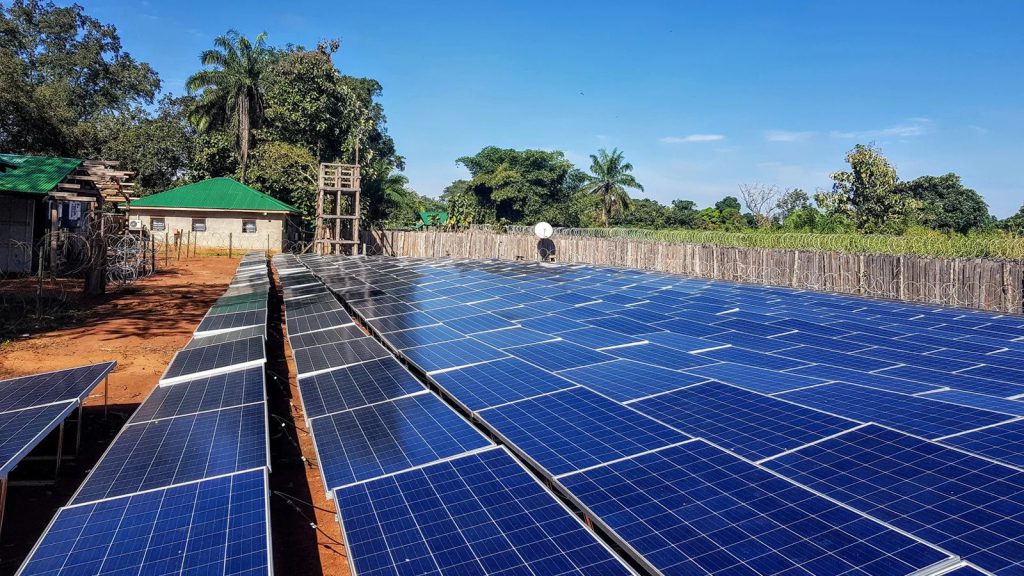 Types of solar panel damage
When Laid was preparing to launch his company, he wanted to get a better understanding of why solar panels fail before their 25+ year end-of-life. He backpacked around China from 2016-2017 visiting solar farms and collecting data on defective panels.
"I probably inspected around 170,000 defective panels. They were every brand."
The average failure rate at the time was 4-6%. Modules exhibited four main material defects – glass/superstrate, encapsulant, cell/interconnection, and backsheet.
Material
Defect Type
Failure Rate
Glass / Superstrate

Broken, etched, hazed glass;

Corrosion of cells

15%
Encapsulant
Discoloration, delamination
15%
Cell / Interconnection

interconnection, snail

tracks, oxidation

10%
Backsheet

delamination, bubble, chalking

60%
He also went to every Tier 1 manufacturer's factory where executives shared their woes of sourcing poor quality backsheets from 2010 to 2013 to keep up with demand and remain price competitive. Four to six years after installation, backsheets were cracking.
Laid estimates 18 million panels (4.2 GW) have defective backsheets of the total 600 million installed in solar farms during the time period in question. They include 220-240 Watt Poly-crystalline and 180-200 Watt 72-cell Monocrystalline modules.
It's possible this issue goes beyond 2013. In the latest DuPont global PV reliability report, which tracks component degradation, module failures in the field and backsheet durability, researchers found a four-fold cumulative increase in polyvinylidene fluoride (PVDF) outer-layer cracking defect rates from 5-23% between years 4-9 after installation. Other backsheet materials that show premature degradation include polyamide (PA) and polyethylene terephthalate (PET).
From Laid's perspective, the number of presently installed modules to replace due to defect, either from product quality failure (such as a cracking backsheet, junction box malfunction or hot spot) or natural disaster (hailstorms, typhoons, etc.) has increased to 6-8%.
The large volume of defective modules led Laid to conclude that a business opportunity existed. And in 2018, he moved forward with incorporating R3 Tech with a vision of becoming the world's leading provider of refurbished and repair solutions.
Can cracked backsheets be repaired?
The short answer is yes. R3 Tech developed a state of the art laminating process to fix backsheets that is capable of extending a module's lifespan by ten years. The company applies a high-temperature vacuum laminated coating to the defective backsheet.
Once the new coating is applied and the panel reassembled, it goes through extensive functionality testing to ensure it is flame/smoke resistant, chemical resistant and sand erosion resistant. It is UV-protected. It must be free of wet leakage. And it must sustain damp heat at 1-2000h, heat-freeze at 200 cycles and QUVA during 100-150 Kwh.
Then the panel is cleaned and taken back to the field for reinstatement. The total cost for this comprehensive service is between $34 and $36 per module.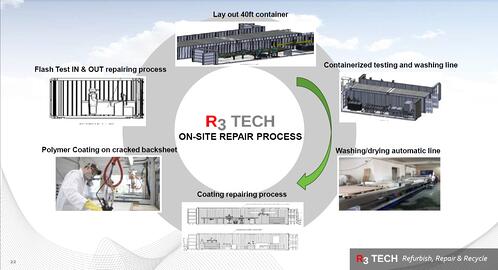 Repair – A lucrative business?
Back in early 2018 when R3 Tech was just starting up, Laid couldn't believe there weren't more companies branching into repair services. Particularly in the European market, there appeared to be great opportunity. Spain, Italy, Germany and France had the world's largest volume of aging solar farm capacity.
"My logic was based on the fact that solar panels were still very expensive, even though the price had significantly dropped from 2010. Owners were considering whether to repair or replace panels and were searching for the most affordable option."
The average price of a new panel in Europe at the time ranged from $90-$100. In the U.S., the price was over $120. Solar farm owners saw repair as an affordable alternative to replacement.
But a lot has changed in the last two years. Solar prices have plummeted world-wide. And solar energy is quickly moving toward a mainstream commodity with a record 118 gigawatts added in 2019. Bloomberg New Energy Finance recently reported that solar was the primary new power generating source added to grids across many countries including Australia, India, Italy, Nambia, Uruguay and the United States.
The average net price per watt of a "mainstream" module (defined as a 60-cell, standard aluminum frame, white backing and 260 Wp to 305 Wp) is right around €0.24 ($0.28 USD). Even after adding VAT and tariff fees, if applicable, owners tend to find replacement of defective panels more feasible than repair.
Even a high efficiency module has dropped to an average price of €0.30/Wp. Some owners are taking advantage of falling prices to repower their solar farms.
Low cost panels, particularly B-Grade, make this option attractive. B-Grade panels have a mismatch or misalignment of solar cells. But this issue is purely aesthetic. It doesn't affect whatsoever the functionality or the energy produced. The cost savings of repowering with B-Grade panels can be significant, and Laid has brokered some major deals to prove this case.
"The other day, I bought 400 W bifacial panels at $0.15 per watt from Vietnam, which means they are tariff-free for the U.S. They are a perfect match for resale in the states."
Because the price of new panels, including B-Grade, is so low nowadays, solar owners tend to replace defective panels rather than repair them. It just costs too much to repair.
As for R3 Tech's business model, Laid knew that he was faced with a choice to either evolve or go down with his ship. R3 Tech has expanded to become a full solution turnkey provider for residential, commercial and utility-scale projects. He still offers repair services, but repair is no longer the primary function of his business.
Another offering of Laid's company is solar equipment brokering, which comes from his original business goal to find solutions that give solar panels a second life.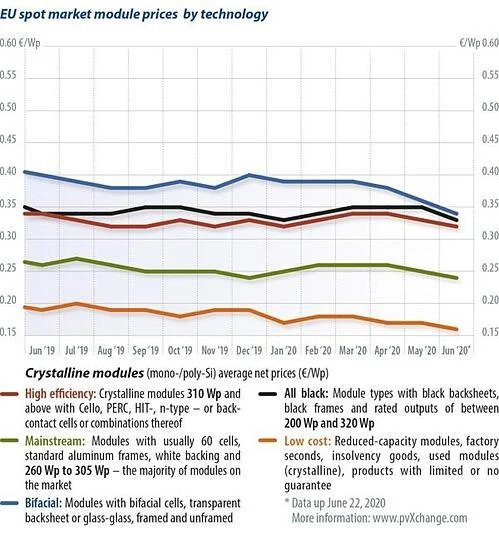 Used solar panels for sale
When solar panels are decommissioned, they may not be at their end-of-life. It is possible that they may still have another 10 to 12 years of energy producing power left to give. And there is a buyer's market for used panels that spans throughout the Middle East, Africa and parts of Latin America. Afghanistan is currently the top market for used panels followed by Pakistan.
"We recognized early on that these consumers have a need for sustainable energy. They are especially looking for ways to access energy and water to support agriculture and livestock."
Laid references Marco Polo's Silk Road and notes it's the same today for used panels. It's common for him to get calls from buyers asking for 25 containers per order. Recently, he dealt with a large distributor in Texas on an acquisition of 25 megawatts. They were in "like new" condition but were decommissioned due to an insurance claim.
"We exported the panels to Karachi and then to northern Afghanistan. They were delivered to warehouses and sold in smaller quantities to villages and farmers."
Other major markets for used panels include Djibouti, Somalia and Ethiopia. Buyers in these areas aren't so much concerned about purchasing modules with no warranty because they have enough sun radiation (two times more than temperate climates) that affords them ample energy production from used panels.
"As long as the panel still has 10-12 years of energy production and is functional, it has resale value. The price is a third of the standard market price. But rubbish goods are never acceptable for resale."
R3 Tech follows a strict practice to ensure decommissioned panels are properly sorted for resale or recycling. First, panels with broken glass are set aside for recycling. Those without broken glass are inspected for backsheet conditions. If the backsheet is falling apart, the panel is recycled since defective backsheets are fire hazards. The remaining panels undergo testing and then offered for resale in the secondary solar market.
Laid also sees a big opportunity to resell panels that are less than five years old. Markets throughout the Caribbean and Central America, such as Puerto Rico, Guatemala, El Salvador and Haiti, are in demand for solar kits packaged with storage. Laid's interest in these markets isn't merely profit-driven. He has a desire to help.
"I really want to offer an affordable price because these people have been through very hard times. In these markets, solar kit prices are inflated. So, less people can access renewable energy. But used panels would bring the price down."
An ideal situation for R3 Tech
Now that Laid has broadened his scope to include turnkey solutions in addition to giving used panels second life, he's ready to grow his clientele. Ideally, he views his company as playing a key role in supporting a circular economy.
In an ideal situation, a solar farm owner who decides to repower would partner with R3 Tech for EPC services. R3 Tech would take care of decommissioning panels, sorting them for resale or recycling and transported to their proper destinations. The panels for resale would go to one of R3 Tech's warehouses where they would be cleaned and tested, and then remarketed.
Laid is especially interested in partnering with large investment firms who are aggressively repowering. He's also looking to buy megawatt levels of used c-Si PV modules in good condition, which means there's no broken glass, no backsheet issues and at least 10-12 years of energy production remain.
Globally, more than 600 GW of PV modules have been installed and commissioned within 20 years and this figure is rapidly growing by 15-20%. Developers, renewables energy asset owners and EPC companies are shifting and replacing their equipments with top latest efficient panels (Perc, Bifacial, HJT…). For these reasons and natural disasters reasons, PV farm owners have now a solution to their left overs.
Here are some FAQ:
Please reach us as soon as the replacement for repowering or insurance claim is confirmed and finalized to anticipate your site operations.
1 MW or 4000 solar panels 250 Watt.
We inspect, test the solar panels being decommissioned and repack them for future reuse on the second hand PV market.
We organize the logistic of the equipment from the PV site. Just send us your address and pick up times.
R3 Tech is constantly searching for new large decomissioning projects where recycling, landfilling are their main concern. We will look after your good modules and "clean" your site on a timely and professionally manner.
If you are a buyer or seller of used modules, feel free to reach us to identify your enquiry.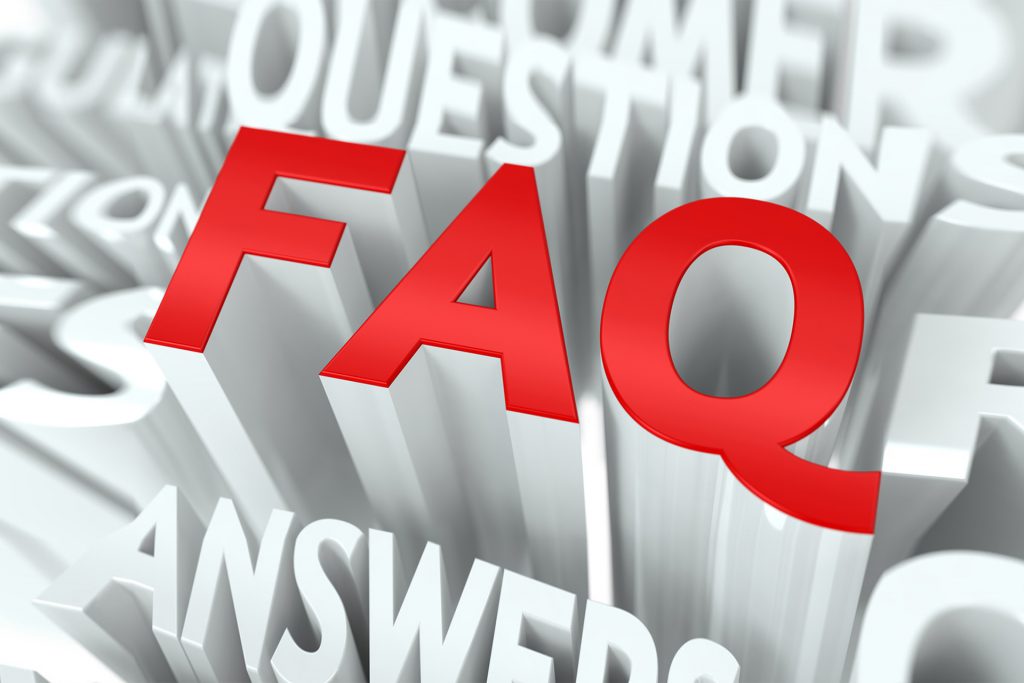 Case Study 1
| Location | Modules | Quantity | Condition | Year of production | Cause |
| --- | --- | --- | --- | --- | --- |
| China | Used Poly 250 W Jinko | 75,000 panels | no defect | 2014 | Repowering of solar plant |
Case Study 2
| Location | Modules | Quantity | Condition | Year of production | Cause |
| --- | --- | --- | --- | --- | --- |
| USA | Used Poly 345 W Poly | 97,000 panels | no defect | 2018 | Replacement after insurance claim |
We buy and sell used and grade B modules!
| Manufacturer | Condition | Quantity | Warranty | Location |
| --- | --- | --- | --- | --- |
| Any Tier One | New or Used with no defects | MOQ of 1 MW | Limited or None | Worldwide |
Please contact us now: info@r3-tech.biz